Animal Medical Center Tour
This page will allow you to take a virtual tour of our practice. It is divided into two sections for our main building (hospital) and our "annex" location (boarding and grooming). We hope you enjoy this look at our practice.
Main Clinic
Located at 7901 W. Kilgore Ave. in Yorktown, IN, Animal Medical Center is a state of the art veterinary hospital. One of our clinic cats, Roger, will be your guide for this tour.
Entrance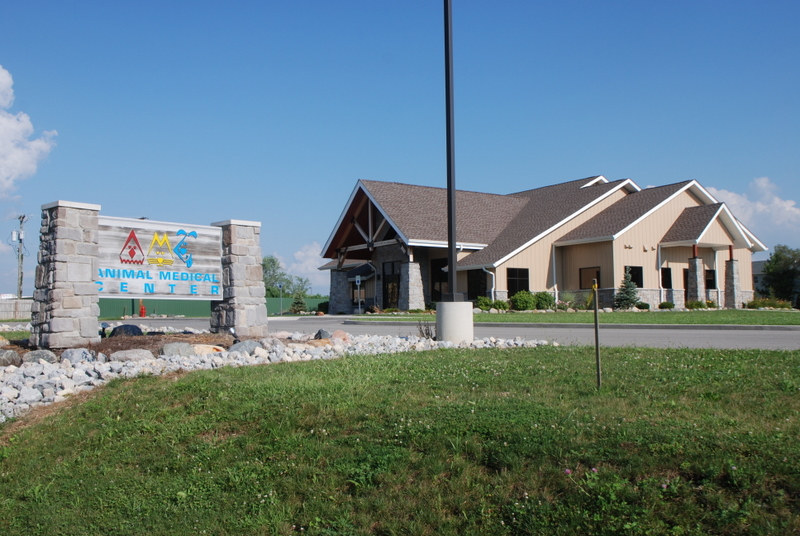 This is the exterior of our building. As you enter, you will notice our distinct, "wilderness lodge" theme. We also have a Pet Relief area for your pet's convenience.
Reception Desk

Here is our reception area. Our receptionists will be here to assist with whatever you or your pet may need. This is also where our clinic cats love to do their two favorite things (meeting people and sleeping)!
Waiting Area

This is our waiting area. It is both spacious and well-lit, so that your wait time provides as little inconvenience as possible. This area also features a "Kid's Corner" with activities for our younger pet lovers.
Exam Room

Here is one of our 4 state-of-the-art exam rooms. Each room has a TV for your convenience while you wait for the doctor to arrive. We have exam rooms for all shapes and sizes of pets (dogs, cats, exotics, etc.)! Some features of our exam rooms include: an electronic lift table to make it easier to examine animals with limited mobility, a computer to view digital x-rays, wireless video otoscope that allows for the client and the doctor to see inside your pet's ears, and much, much more.
Surgery

This is our surgery area. This facility allows our vets to perform a wide variety of procedures. We have advanced monitoring systems in place to make sure your pet is as safe as possible when having a surgical procedure.
Treatment Area

This is our treatment area. We have 3 different types of tables (regular, hydraulic lift, and wet) which allow us to perform dentistry, small surgical procedures, and to quickly move emergency and critical care patients. We also have boarding for hospitalized animals in this area.
Radiology

This is our radiology room. Pets that need to have x-rays taken will have them performed here. We have an advanced digital x-ray system that allows for clear images that can be stored on computers. This allows us to show the x-rays on computers in the exam rooms.
Pharmacy

This is our pharmacy. We have many medicines that can treat a wide variety of conditions. With the knowledge of our vets, a course of treatment can be recommended that will help get your pet back to tip-top shape as quickly as possible.
Lab

This is our in-house lab. Here we can perform a number of different tests to help diagnose your pet's illness and evaluate its health. Since these tests are performed on site, it allows our vets to get results quickly, so that we can help your pet without having to wait for an outside lab to do the tests.
Cat Boarding Room

This is our cat boarding area. We have a playspace where your cat can have fun and hang out instead of being cooped up in a cage. Our feline boarders seem to particularly enjoy the tower we have that they can climb up (or sleep in!).
Annex Location
Located at 1491 S. Nebo Rd. in Yorktown, IN, the Animal Medical Center "Annex" location is where our boarding and grooming facilities are housed.
Reception Desk

This is the reception area for the annex. Here our staff will be happy to help you set up boarding and grooming times for your pet.
Grooming

This is our bathing and grooming area. Our experienced groomers will give your pet a haircut that they will love. Our pet bathtub helps turn your dirty pet into a squeaky clean one! For your extra convenience, this area can also function as a remote exam room, where our doctors can perform check-ups for your animal during their stay.
Boarding

This is just a small sampling of some of our boarding kennels at this facility. From extra-small to extra-large, we have cages of all sizes to match any pets. We offer both dog and cat boarding at this facility. We also have several indoor-outdoor kennels available for some of our canine boarders.